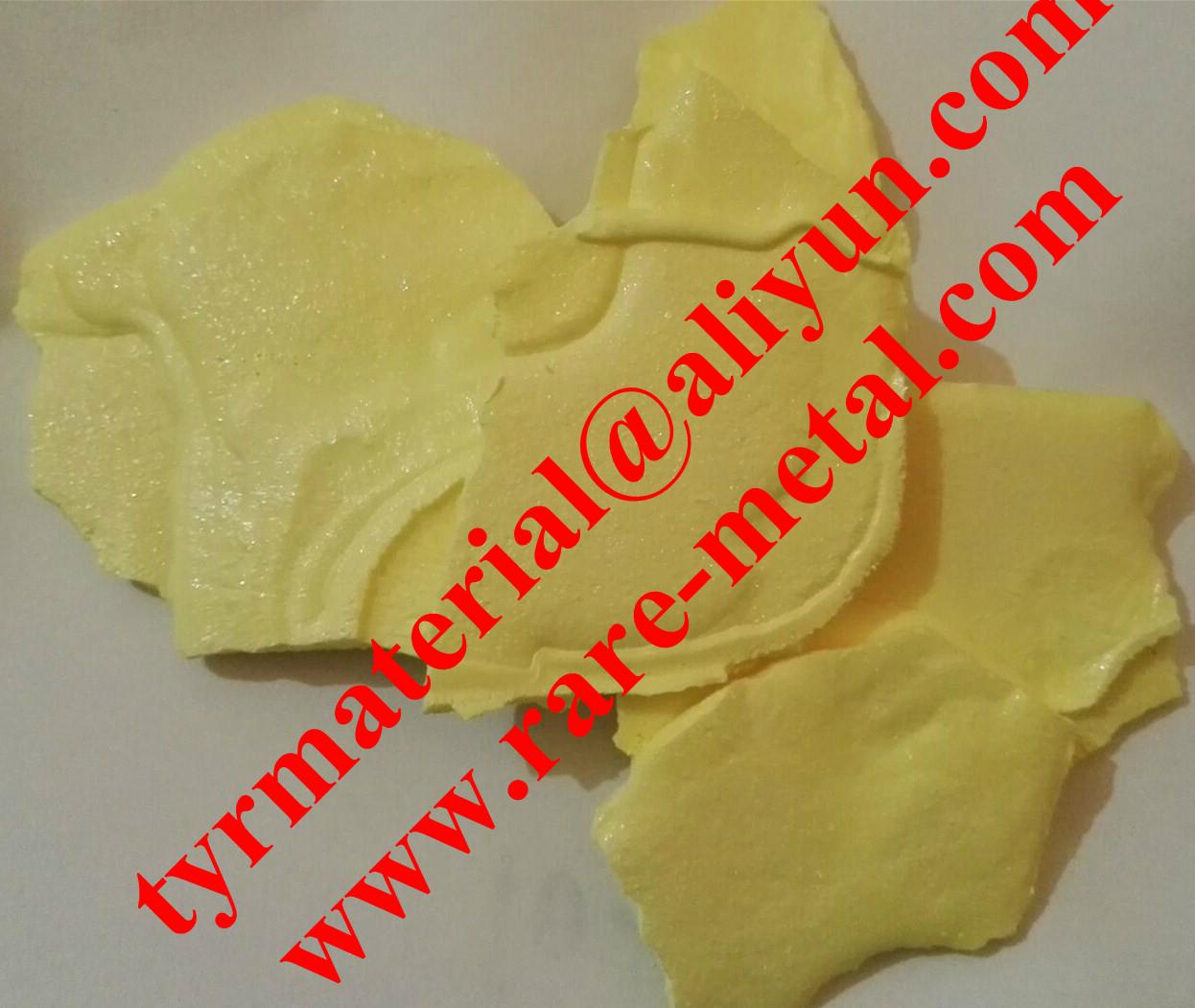 Sulfur or Sulphur (S) chunks, powder CAS 7704-34-9
Model No.︰
S
Brand Name︰
TYR
Country of Origin︰
China
Unit Price︰
US $ 200 / kg
Minimum Order︰
0.1 kg
Product Description
Sulfur or Sulphur (S) chunks, powder
Purity:99.999%
Shape: pieces, granules, rods, tablets, powder
Spec.:
Pieces, Granules: 1-2.5mm, 3-6mm, 3-8mm, 1-3mm, 3-12mm e.t.c
​Powder: -200 mesh, -325 mesh e.t.c
Sulfur or Sulphur (see spelling and etymology) is a chemical element with symbol S and atomic number 16. It is abundant, multivalent, and nonmetallic. Under normal conditions, sulfur atoms form cyclic octatomic molecules with a chemical formula S8. Elemental sulfur is a bright yellow crystalline solid at room temperature. Chemically, sulfur reacts with all elements except for gold, platinum, iridium, tellurium, and the noble gases.
Melting point: 388.36 K ​(115.21 °C, ​239.38 °F)
Boiling point: 717.8 K ​(444.6 °C, ​832.3 °F)
Density near r.t.: alpha: 2.07 g/cm3
beta: 1.96 g/cm3
gamma: 1.92 g/cm3
when liquid, at m.p.: 1.819 g/cm3
Appearance: lemon yellow sintered microcrystals

Applications:
Sulfuric acid
Other important sulfur chemistry
Fertilizer
Fine chemicals
Fungicide and pesticide
Bactericide in winemaking and food preservation
Pharmaceuticals
Mechanism of action
Label︰ Sulfur or Sulphur (S) chunks, powder
Related Products